The Top 10 Colleges Move-in Checklist
Making the long, life-altering trip from high school to college? Want to make sure that you're going to fit in and represent your new home as best as you can? "Team spirit" is a big part of the college experience, and here we're going to look at what any new arrival should bring if they want to make the right impression and show that they are on the side. We'll also look at a few tips on things to pack to make life a little easier.

Boulder, CO, University of Colorado Boulder
Gold, black, and silver are the colors of Colorado Boulder, and you are definitely going to want to show your team support. Boulder, Colorado is one of the healthiest and most athletic cities in the town, so support for the sports teams is at an all-time high here. Though the summers can get up to 100 degrees Fahrenheit, that doesn't last long. More prominent, however, are the Chinook winds, which can make things really chilly so make sure you pack some coats, scarves, and hats.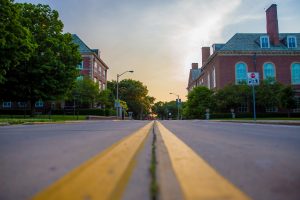 Champaign-Urbana, IL, University of Illinois
Here, you can expect to see several students decked out in the blue and orange of the university colors. As with all dorms, make sure you bring plenty of bed articles, including your pillow and pillow cases, your own duvets and sheets, as well as a mattress protector. Beds might be provided in most dorms, but the bedding is not so you want to pack at least two of each.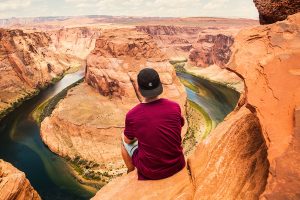 Flagstaff, AZ, Northern Arizona University
The first thing most new transplants to Arizona notice is the heat. Make sure that you bring with you tank tops, t-shirts, flip-flops, wide-brimmed hats, sunglasses and plenty of sunscreens. You're likely going to want a fan for the room as well. Here, the university team colors are blue and gold. The blue beanie hat worn by the college mascot, "Louie the Lumberjack" is a popular item as well.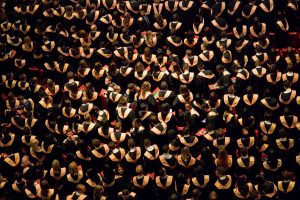 Ithaca, NY, Cornell University
A private Ivy League research school, that doesn't mean that Cornell doesn't have team spirit and campus camaraderie to spare. Here, white, grey and a specific Camelian red are the colors to look out for. Touchdown, the Big Red Bear, is the college mascot, so a bear-themed item of clothing or two can help you blend in all the better. As with most campuses, the bathrooms are shared, so it's a good idea to make sure you have a waterproof bag able to carry all your toiletries, as well as bathrobes and towels so you can get in and out of the bathroom with minimal fuss.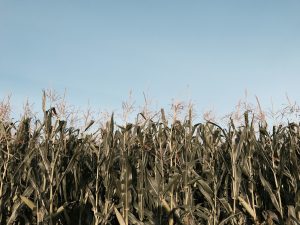 Iowa City, IA – University of Iowa
The colors of the University of Iowa are much easier to incorporate into your décor, featuring gold over a black background. Something as simple as a black sweater or hoodie with gold lettering or graphics can do the trick. Herky the Hawk is the local athletics mascot, so any feather or hawk-themed accessories can go a long way. Iowa has a big campus with lots to do in the surrounding areas, so many students will bring a bike with them. If you do, just make sure that you have a bike lock to go with it. You don't want your wheels disappearing on you.

Bloomington, IA – Indiana University at Bloomington
Also known as "Indiana University Bloomington", here the colors you want to match are red and white or red and cream, another rather easy combo. You're going to be in charge of all your own clothes no matter where you move. As well as packing appropriately for the climate, bring plenty of clothes hangers and consider a hamper or two to help you keep your room neat without a tumble of clothes all over the floor.

College Station, TX – Home of A&M University
Maroon and white are the colors here, so a simple maroon hat or sweater can immediately help you fit in a little better around the campus. To help keep your room neat, a little storage can do a lot of good. A mini trash can is essential no matter where you go, but an extra storage bin and under-the-bed storage trays can help you keep clutter out of your room.

Manhattan, KN – Kansas State University
Keeping simplicity at the core, maroon is the color of Kansas State University. If you want even more team spirit, then a few cat-themed accessories can bring you all the closer to mascot Willie the Wildcat. Staying organized is crucial to surviving the college experience and keeping track of all your different projects, deadlines, and resources. For that reason, consider bringing a bulletin board and pushpins, as well as a dry-erase wall calendar or organizer.

Columbia, MO – University of Missouri
Again, much like Iowa University, the colors of Missouri are black and gold. For those feeling more aesthetically bold, you might see the occasional tiger-stripe pattern on clothing to match with athletics mascot Truman the Tiger. Much of your college life is going to be spent on your coursework and projects, so make sure that you come with a healthy supply of stationery. You're going to find yourself stocking up on pens, pencils, paper, and everything else regularly. Pencil holders and stationery trays can make it all much easier to keep neat and managed on the desk.

Bloomington, IL – Illinois State University
Finally, the big colors for those wanting to match the Illinois State University look are white and red. You're going to see plenty of people wearing the face of Reggie Redbird, the athletics mascot, too. If you can, work out with your roommates on some of the shared items in the room, too. Audio equipment, TVs, coffee makers, microwaves, and mini-fridges tend to be a team effort, so organize who is bringing what after you first move in.
Moving to college can be a new and bewildering experience, so integrating yourself as quickly as possible and getting on-side can make it feel like home all the sooner. With the tips above, you have no problem fitting in and feeling that good old team spirit.