Moving With Children Is Easy If You Follow These Tips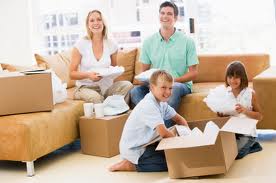 Moving may be a great reason to explore new opportunities that would otherwise be impossible. There is a huge world out there waiting for you to take advantage of everything that it has to offer, but only a very small percent of it is available were you currently live. This makes moving to a new location, a city that is full of limitless opportunities sound better than a bowl of your favorite ice cream, but for children, this is not the case.
The whole idea of moving can be extremely frightening to a child. Most of the fear comes from the unknown. Children don't like not knowing what something will be like, and the idea of moving can often be very scary. They will have loads of questions, and it is up to you as the parent to sit down with them and not only answer all of these questions, but also make them feel comfortable. Here are some tips that will make moving with children easy.
Don't pack all of their things
When it comes time to start packing your child's room, take some extra time to sit down with them and discuss what is going to happen to all of their things. It really helps to have a few special boxes for them to put their closest, and most personal things in. This will help them feel more at home during the move. Tell them that they don't have to pack everything that they own. Give the special box that will be sitting right next to them during the entire driving trip.
Get your kids involved
With all of the work that will be happening, your children will not be getting the attention that they deserve. Take some time out, and plan a special packing time for them. Show them how and why everything is getting packed up, and after you have explained everything, encourage them to help with some packing.
Things like clothing, bedding, and toys are great places to start. They are easy to pack, they are lightweight, and they can be fun. Making your children feel like they are part of the crowd is one of the best ways to keep them happy during the move, but there are other ways to do this too.
Make the move an adventure
Children are very impressionable. If you are a parent, then you already know this. Kids quickly pick up on any negative feelings that you may have about the move. When you first introduce them to the idea of moving, make sure that you make the idea exciting. Tell them that it is going to be an adventure. You can even go so far as to give the whole move a theme. If your kids are having fun, their will be zero problems during the move.
At Movers.net, we are here to help you find the best prices on all of your moving services, but most importantly, we are here to give you the best advice that will make your move fun and successful.